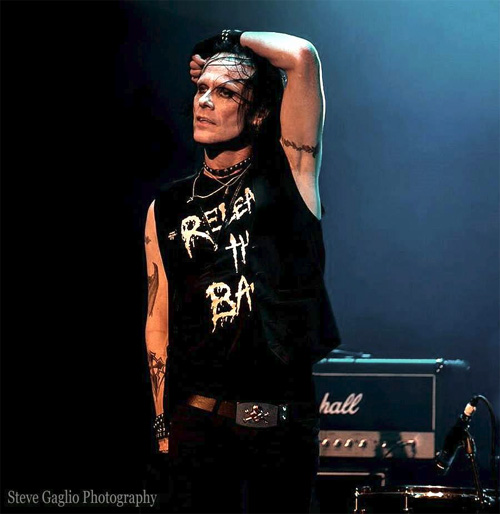 Mick Scott has spent his entire life in music and has loved every single heartbreaking, painful moment of it. Mick has received accolades and praise for his works including having music in the 2001 movie Bedazzled, writing material and performing it on The HBO's TRUE BLOOD, sharing the live stage with such greats as Eddie Money and Robin Zander to Skid Row and LA Guns. He was voted as one of THE TOP 13 BEST FRONT MEN OF 2013 through 2016 in the Magazine ROCKwell UnScene. With his former bands (AnA Black, See Spot Kill and Se7en Reasons Why) he has achieved most of his goals and is very proud of all his achievements of the past whilst looking towards the future of VILLAINS IN VOGUE with an even greater expectations.
Justin Sane first got into music after hearing Zeppelin's Black Dog at age 14. He quickly fell in love with rock and roll, and soon after got an electric guitar, and began writing his own music. Hailing from Madison, Wisconsin, Justin made the pilgrimage to Los Angeles in 2015. Self-taught on guitar, piano/keys, bass, drums, harmonica and vocals, he is influenced by a range of artists including Badfinger, Alice Cooper, Jerry Lee Lewis, Aerosmith, The Rolling Stones, Franz Liszt, Richard Wagner, and many others. Justin carries a passion for composition, as well as performance. He has loved every show he has played, from sweaty basement college parties, to opening for internationally touring acts.
Jeffrey Shapiro has been hitting things with sticks for quite some time, and singing his heart out. Originally from Milwaukee, WI, he has been recording and playing drums in bands that deserve a Drummer who is fun to watch. He's very spontaneous, plays for the song and is versatile whether the genre is rock, pop, soul, or whatever is needed. Yes, he is that guy. Performing drums in oodles of rock and roll bands, his list ranges from playing with The Mystery Girls, Donnie Vie from Enuff Z'nuff, Oni Logan from The Lynch Mob, Chris Thompson from Manfred Man, and Sonic Boom with L.A. Gun's Paul Black. He also played "Schlatko" in the Hollywood production of "Hedwig and The Angry Inch". If you are not bouncing to his beats or moving to his grooves, check your pulse. He is the heartbeat of VILLAINS IN VOGUE
Bryan Kimes, after years of writing, recording and performing in the Mid-Atlantic circuit headed west in 2017 - rolling the dice on the rebirth of the L.A. rock scene. His 2008 efforts with post-pop, alternative group, 23rainydays landed a finalist spot for the 2009 MTV Video Music Awards "Breakout Artist" category. The band enjoyed the exposure of direct support and a television broadcast with All Time Low, followed by a US tour in support of their album, From Today Until Forever. He has co-written and/or recorded music featured on ESPN, MTV and the 2017 movie, Fair Market Value starring Luisano Lopisato. His "down the barrel" playing style is replete for any rock rhythm section, carefully hand-crafted with a Fender bass.